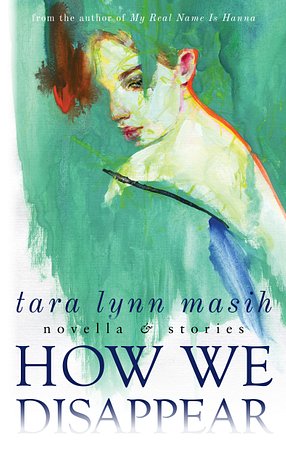 A MILLIONS Most Anticipated Fall Selection
BEST OF THE NET nomination for "Agatha"
Tara Lynn Masih offers readers transporting and compelling stories of those taken, those missing, and those neither here nor gone—
runaways, exiles, wanderers, ghosts, even the elusive Dame Agatha Christie. From the remote Siberian taiga to the harsh American frontier, from rural Long Island to postwar Belgium, Masih's characters are diverse in identity and circumstance, defying the burden of erasure by disappearing into or emerging from physical and emotional landscapes.
Described as "masterful" and as "striking and resonant" (Publishers Weekly), Masih's fiction, crossing boundaries between historical and contemporary, sparks with awareness that nothing and no one is ever gone for good—and that the wilderness is never quite behind us.
Partial royalties to be donated to The Teen Project.
#HowWeDisappearStories
Praise for How We Disappear
"Masih's collection is a beautiful and carefully written work that deftly searches below the surface for the personal feelings of the diverse characters and blends them with the oftentimes stunning outside world. . . . Luminous . . . "
—Kirkus Reviews (read the full review here)
"Tara Lynn Masih's exceptional short story and novella collection presents a sprawling range of characters, unique voices, and exotic settings [and] showcases the considerable talents of Masih, particularly in creating characters that manage to feel unique and yet familiar at the same time, and settings so full of sensory details they become characters in themselves. This fine collection is a worthy addition to any bookshelf."
—Southern Literary Review
"Rarer is the writer who leaves no traces of herself, allowing the characters to wield their own singular voices, yet Masih has achieved it in each of her far-ranging yet intimate stories. Some characters yearn to disappear, some for only a time, ultimately realizing their paths follow or align with another; some characters have no choice. But they all do what the best of fiction does, they stay with the reader."
—Lit Pub (read the full review here)
"Through elegant prose, complex characters, and breathtaking images, Masih has crafted a collection that is not only a joy to read but also incredibly cathartic."
—Necessary Fiction (read the full review here)
"Engaging, entertaining, original, thought-provoking, How We Disappear: Novella & Stories is especially and unreservedly recommended for community, college, and university library Literary Fiction collections."
—Midwest Book Review
"There is so much to be admired about this collection: its range, intelligence, and deep immersion in characters' lives and struggles. Each story is its own richly detailed, mesmerizing world."
—Small Press Picks
"From American fables to ghost stories, Tara Lynn Masih demonstrates her masterful attention to form, crafting a collection that is equally cohesive as it is explorative."
—October Hill Magazine, summer issue
"Maps don't need words for meaning to shine through. All you need is a key. Masih is working with the same type of silences that maps do. . . . The stories are markers, suggestions, without specific teachings, but imbued with wisdom."
—The Masters Review
"A virtuoso collection of stories that spin around an axis of loss and rediscovery, where things thought gone forever magically reappear in new guises. Tara Lynn Masih has created a world of stolen girls, magic livestock, ghost towns, enchanted confections, and forbidden love that is underpinned in equal measure by wry humor and peril. These are middle-of-the night stories, secret messages carried on desert winds, spider-web invitations that make you want to stay and dream some more."
—Tina May Hall, author of The Snow Collectors and winner of the Drue Heinz Literature Prize
"In How We Disappear, Tara Lynn Masih conjures indelible people and places marked by loss and makes of this book an electrifying universe where the missing and the seekers can live on—keenly recognized and poignantly rendered."
—Ethel Rohan, author of In the Event of Contact, winner of the Dzanc Books Short Story Collection Prize
"How We Disappear traffics, beautifully, in the liminal spaces between past and present, imagination and memory. These stories are concise, unsparing, lyrical, always daring."
—Michael Parker, O. Henry Award–winning author of Prairie Fever
"'It is easy to love a ghost who asks nothing of you,'" writes Tara Lynn Masih, in her lush, lyrical and richly imagined collection How We Disappear. With sweeping intelligence and effortless command, Masih deftly explores the aching presence of the absent, and the absence of those present, in stories that read like instant classics—timely, and yet, of another time. . . . These are sensual, transporting stories that traverse the globe . . . as they burrow deep and stay within long after we finish reading."
—Sara Lippmann, author of Jerks and Doll Palace, Longlisted for the Frank O'Connor International Short Story Award
"The breadth and diversity of the stories in How We Disappear illustrate the vast possibilities of human experience. A multiplicity of voices, backgrounds, regions, story lengths, points-of-view, levels of realism, and historical contexts show the extraordinary range of Masih's vision. The characters who populate the collection are driven by impulses stronger than their own understandings, and it is often by following those impulses that they find their salvation. The result is a book that explores with insight the role of instinct in human life. How We Disappear reveals the strange animals that we are, and the wondrous beings our minds make of us."
—Phong Nguyen, author of Bronze Drum and Pages from the Textbook of Alternate History
"In How We Disappear, Masih's characters move out of, into, and through vivid, beautifully rendered landscapes—of the world and of the self. Disappearing acts are urgent and necessary, leading to a deeply interior sense of redemption and connection. A powerful collection."
—Claire Boyles, Whiting Award-winning author of Site Fidelity, Longlisted for the PEN/America Robert W. Bingham Prize
"How We Disappear is stunning and startling, splendid and spectral, in so many ways. Tara Lynn Masih has offered us a mesmerizing collection."
—Stacy D. Flood, author of The Salt Fields: A Novella
"The ink is never pale in How We Disappear, and neither are the memories. With each story, I became more and more amazed. Masih is a frotteur in the old sense, rubbing words together to make distant worlds surface and come alive in rich, lush, and engrossing detail. As a writer, I always learn more about writing from Tara Lynn Masih. As a reader, I'm always carried away by her stories."
—Grant Faulkner, author of Fissures and The Art of Brevity
Signed copies available
at Tombolo Books
(St. Petersburg, FL);
The Bookmark (Neptune Beach, FL); Midtown Reader (Tallahassee, FL)